Page 4


he highlight of my father's teen years was his participation in sports. My grandfather was a sports enthusiast and coached my father in both basketball and track.
The "Brotherhood" basketball team was sponsored by my father's church, The Lafayette Presbyterian Church. The team was named for the church's Brotherhood Fellowship.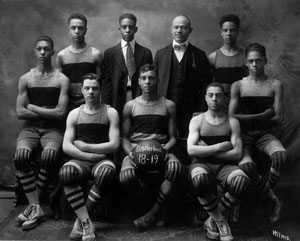 Lafayette Presbyterian Church
Brotherhood Basketball Team, 1918-1919
FIRST ROW: William Harris, Raymond (Bozo) Anderson, Maurice (Monk) Howard, Fred F. Smith, George Cannon. SECOND ROW: George Smith, Edward Burke, Coach Fred T. Smith, George Gaynor. Missing: Deckle McLean

ENLARGE


More than just an outlet for male adolescent energy, sports was a way of extending his social horizons and of traveling around the greater-metropolitan, New-York Area.
He had started writing poetry—what he called "verse"—when he was 10 years old. As a teen, his interest in writing continued to develop. He joined with three other friends in anonymously publishing a weekly newsletter, "The Black Dispatch." It was mostly a gossip sheet, revealing who was "going with" and, sometimes, cheating on whom.
The newsletter was surrounded with more mystery than just the burning question of who was writing it. It was mailed to members of my father's peer group in Jersey City, postmarked from other cities. One of the members of the group worked for a railroad as a Pullman Car Porter, and each week he mailed copies of the latest issue from a different stop along his route. Cloaked in intrigue and scandal, the newsletter was controversial and wildly popular.

top of the page